NOTICE: This post is over 180 days old. This information may be outdated if you're looking for new or upcoming information.
Freshman and Sophomores of the NFA Boys Varsity Track Team Win 21 medals
Freshman and Sophomore scholars of the NFA Boys Varsity Track Team won a total of 13 gold medals and 8 silver medals in route to winning their divisions on last night January 4, 2019 at the Hispanic Games Invitational at the New York Armory:
Freshman Division:
1st place 4X200m relay (Matt Worrell, Sam Minted, Andre Fisher, and Xaiver Williams)
1st place 4X400m relay (Matt, Sam, Andre, Xaiver)
Sophomore Division:
2nd place 4X200m relay:
(James Onwuka, Amaury Ruud, Elijah Ullah, Estaba Lopez)
1st place 4X400m relay (James, Elijah,Estban, and Amuary)
2nd place 4X800m relay (John Abrams, Leonard Diaz, Matt Haynes, Emmanuel Mirada)
1st place shot put (James Tharpe) *New meet record 44' 1 1/2"
Job well done by these young student athletes.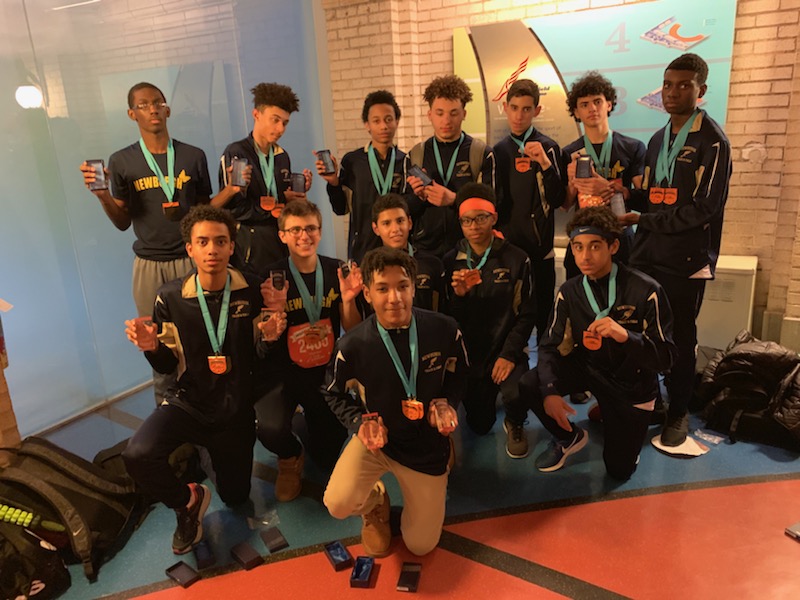 Story and photo provided by Coach Malcolm Burks.
TEACHERS: Are you and your students doing something great? Please contact your Communication Strategist. We'd love to attend or post your pictures and recap to highlight the amazing accomplishments throughout our district! Grades PreK-5 Amanda McDowell (amcdowell@necsd.net) and Grades 6-12 Cassie Sklarz (csklarz@necsd.net).
Date: 2019-01-07 13:14:48