Health Benefits
Latest News from Health Benefits Dept.
April Newsletter- Posted April 6, 2020
Read this month's EAP Newsletter
February Newsletter- Posted February 5, 2020
Read this month's EAP Newsletter
November Newsletter - Posted November 13, 2020
Read this month's EAP Newsletter
Open Enrollment - Posted October 1, 2020
Our annual open enrollment period for Medical will begin on Friday Oct 2, 2020 through Monday, November 30, 2020 with changes effective Jan 1, 2021. All employees eligible for either district insurance or the health insurance buy-out must complete the open enrollment for medical.
For those who have district insurance: You must log into INAVIGATOR and enroll in a benefit plan for the upcoming plan year. Even if you are not making any changes, you must complete the medical open enrollment. If you are adding dependents you must also send me the following documents: If adding a spouse: marriage certificate and copies of birth certificate and social security card. If adding children: copies of birth certificates and social security cards.
For those employees who take the buy-out:
You must log into INAVIGATOR and decline the medical coverage. You do not need to upload your Medical ID card again if you already participate in the health insurance buy-out.
Important Information concerning the 20-21 Flex Plan Open Enrollment - August 21, 2020
Please note that the 2020-2021 Flex Plan/Aflac Open Enrolment will run from Monday, August 30, 2020- Wednesday, September 16, 2020. Our new Flex plan year begins on October 1, 2020. The new FSA annual allowable amount for this plan year is $2750.00. The DCA deduction remains at $5000.00 max per household. Deductions for the Flex plan are pre-taxed, with payroll contributions made over the course of 19 pay periods during the school year. The first deduction will begin on 10/9/2020. An email will be forthcoming regarding the open enrollment for the Flex/Aflac plans. No enrollments will be accepted after September 16th, 2020, so please plan accordingly.
Health Insurance Buyout - May 19, 2020
Our annual Health Insurance Buy-Out open enrollment period runs from May 1, 2020- June 19, 2020. If you are interested in the Health Insurance Buy-Out, please be sure to enroll in the Health Insurance Buy-Out for the 20-21 school year through the district's benefit portal, INAVIGATOR. In order for your buy-out to get processed, you must enroll and upload a copy of your current health insurance ID card to the portal by the June 19th, 2020 deadline.
NYSLRS Member Statements - May 19, 2020
When will I receive my Member Annual Statement?
Statements are scheduled to be distributed in late spring. It's important to make sure NYSLRS has your correct email and mailing address. Sign in to your Retirement Online account and update your contact information if needed. You can also receive your annual statement faster by choosing to receive it by email. You'll receive an email that directs you to Retirement Online to see your statement when it's ready. If you don't choose email delivery, we will mail your statement to your home.
How do I get a copy of my Member Annual Statement?
Starting this year, you will be able to sign in to Retirement Online to view and print your statement.
You can also request a reprint by:
We can't reprint:
Statements from previous years.
Reprints of the current year from March 31 until the mailing for that year is complete (generally in June).
Remember, your statement provides information as of the end of the State fiscal year (March 31). Your Retirement Online account displays more recent information, and it is updated regularly after your employer reports your service and earnings to NYSLRS. If you need account information for a financial institution (for example, if you are applying for a mortgage), please read the Mortgage Letter/Account Verification section of this FAQ.
For more information members can visit https://www.osc.state.ny.us/retire
COVID-19 INFORMATION
Telemedicine Services
Here's some additional information about Covid-19 and virtual doctor visits. This is an important information from MVP. Here's also a direct link to MVP's myERvisit.
Additional Information
Some weeks ago, we created the Covid-19 resource center on the ESI member website, www.theEAP.com/Educators-EAP. We continue to update that resource center with new information every few days so login to see what's new.

Plus, we have just added 5 new video trainings to help you and your employees deal with the Covid-19 epidemic. We have included a video to help educate employees on the virus. And for those who have employees working remotely, there are videos to help those employees and their managers.

You can access the resource center and the new videos by logging on to the ESI website www.theEAP.com/Educators-EAP. Links to each of the training videos can be found in the Coronavirus (COVID-19) Resource & Training Center after you've logged in to the site. Click here for instructions to access the EAP Self-help resources.

The following is a brief summary of the training videos.

Preparing for an Epidemic
Epidemics can be really frightening, and with so much information swirling around, it's easy to panic and spread false information. In this video, you'll learn symptoms of COVID-19, how to prepare for an epidemic as an individual and an organization, how to prevent the spread of a virus in the workplace, good hygiene practices, and how to create a clear business plan to keep operations running.

Setting Up Your Remote Workspace
Working remotely has a lot of benefits, but your workspace can really impact your productivity. You want a place free of distractions, and you also want to make sure you have the right equipment. Learn how to set up a remote workspace that will help you maximize your productivity.

Conference Call Guidelines
Conference calls can be a great way to keep your dispersed team connected, but they can go south quickly. We've all had the experience of being on a conference call that wasn't a good use of time, or a dog was barking in the background, or half the team had technical difficulties. Learn best practices for having effective conference calls.

Staying Productive While Working Remotely
Remote work gives you a lot of flexibility, but sometimes that flexibility makes it hard to stay focused and productive. There are several ways to help yourself stay on task, including making a schedule, taking breaks, and more. In this video, you'll get tips on staying productive even if you're working from the couch.

Enhancing Productivity With Remote Workers
Employees might love the idea of working remotely, while managers don't like that they can't monitor or check up on employees regularly. But remote workers can be just as productive, if not more, than employees in the office. In this video, you'll learn how to manage remote employees, help them be their most productive, and the mutual benefits of remote work.
February EAP Newsletter - Be Heart Smart
View the February 2020 Issue of your EAP Newsletter
2020 SBCs Posted
SBCs were posted for MVP PPO, MVP HMO, Emblem HMO, and CDPHP HMO.
January EAP Newsletter - Supercharge your New Year Resolutions with a Coach
View the January 2020 Issue of your EAP Newsletter
December EAP Newsletter - Keep your calm in the super-stress season?
View the December 2019 Issue of your EAP Newsletter
Important Information for NYSHIP Enrollees: Prescription Co-Pay Changes effective January 1, 2020:
Effective January 1, 2020, enrollees and dependents of the NYSHIP PA plan will utilize the Empire Plan Advanced Flexible Formulary. Like the Flexible Formulary used now, the Advanced Flexible Formulary displays the most commonly utilized medications and displays excluded medications and preferred alternatives. The formulary will be used by almost 90% of the Empire Plan enrollees and dependents. Some of the changes on this year's formulary will pertain to some drugs moving to the Excluded Drug List, Drugs moving to a higher tier level and Drugs moving to a lower tier level.
Copayment changes for the Empire Plan Rx Program will be as follows:
Level 1 Copayments will remain the same
Copayment increases for Level 2 (Preferred) and Level 3 (Non- Preferred)
Annual Medical Open Enrollment begins on October 7th, 2019
Medical Open Enrollment is here! During the months of October and November, District employees have the opportunity to enroll in or make changes to their health insurance plans. All changes will become effective on January 1st, 2020. All benefit eligible employees must complete the open enrollment process. Please be advised that all medical elections will go through our benefit portal, INAVIGATOR. Anyone logging into INAVIGATOR for the first time must create a user name and password to log in. Medical open enrollment ends on November 30th, so please be sure to complete the medical open enrollment before the deadline.
Employee Benefits
The following free benefits are available on a confidential basis. Counseling benefits, peak performance coaching, training and personal development benefits, self-help resources, work/life benefits, personal assistant, wellness benefits, and lifestyle benefits. To learn more download EAP benefits flyer or contact the EAP toll-free at 800.252.4555.
September EAP Newsletter - Am I Normal?
View the October 2019 Issue of your EAP Newsletter
September EAP Newsletter - Supporting Friends who Have Cancer
View the September 2019 Issue of your EAP Newsletter
Open Enrollment Flex
September 1st- September 17th, 2019 is open enrollment for the District's Flex plan administered through Wage Works. Enrollment is optional; however, if you are interested, then you must enroll during the designated open enrollment period. You will not be able to enroll once open enrollment has ended. The plan year will begin on October 1st, 2019 and runs through September 30th, 2020. We offer FSA (Flexible Spending Account) Unreimbursed Medical Expenses and DCA (Dependent Care Account). The maximum amount this plan year for FSA Unreimbursed Medical is $2700.00. The maximum for DCA is $5000.00 per household. Enrollment must be completed through INAVIGATOR. September is also the open enrollment month for Aflac. This is the time when you can add or drop an Aflac policy. Information will be available on INAVIGATOR starting on 9/1/19. Please check your 8/30/19 email for enrollment details.
August EAP Newsletter - Save Money with your EAP
View the August 2019 Issue of your EAP Newsletter
Agreement with Westchester Medical Center Health Network Reinstated Retroactive to June 1, 2019
The Westchester Medical Center Health Network (WMCHN) and Empire BlueCross (the Hospital Program administrator) reached a contract agreement that reinstates the hospital system's network status retroactive to June 1, 2019. WMCHN includes the following facilities: Bon Secours—Good Samaritan Hospital; Bon Secours—Mercy Community Hospital; Bon Secours—St. Anthony's Hospital; Mid-Hudson Regional Hospital and Westchester Medical Center.
Claims for services received at these facilities on or after June 1, 2019 will be processed as in-network and will be subject to in-network copayment, where applicable. If preadmission certification was received for a future hospital admission, services will be approved for an in-network level of benefits and the corresponding claim will be subject to in-network copayment, where applicable.
If enrollees have any questions, please have them call 1-877-7-NYSHIP (1-877-769-7447) and select option 2 for the Hospital Program.
2019-2020 Health Insurance Buy-Out May -1 June 14th, 2019
Information will be going out in May 2019 via district email regarding our Open Enrollment period for the Health Insurance Buy-Out. If you are taking the medical buy-out for the 2019-2020 school year, you must log into the INAVIGATOR benefit portal and enroll in the health insurance buy-out online. In addition, you must also upload a copy of your current health insurance ID card to the INAVIGATOR portal. The health insurance buy-out open enrollment period runs from May 1, 2019- June 21, 2019. You must complete the buy-out enrollment each year that you are electing to enroll in the medical buy-out. Please remember there is a June 14, 2019 deadline. Enrollments not received by that date will not receive the 2019-2020 health insurance buy-out in the first pay of October 2019.
EAP Coaching Programs Available (Click Image To Download)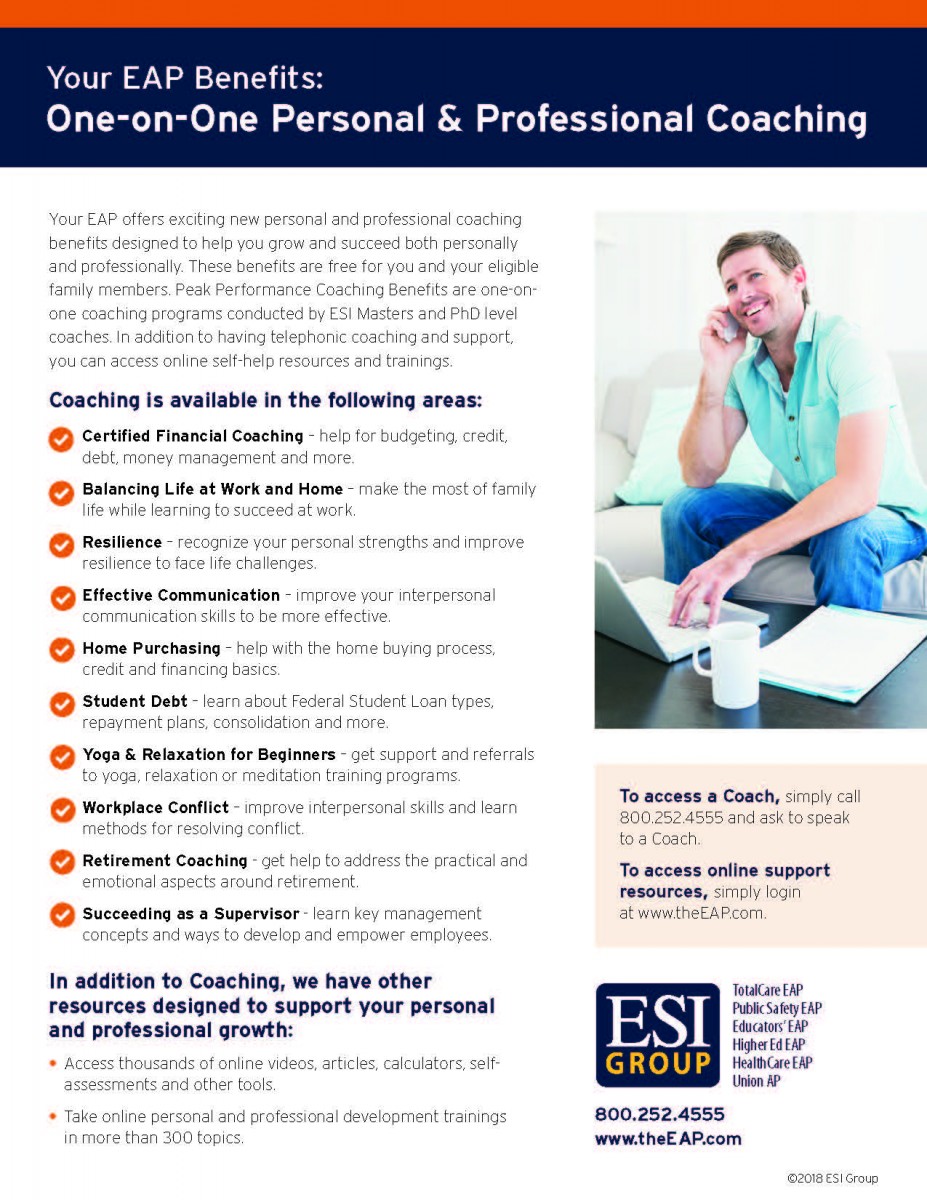 2018 Holiday Survival Toolkit from our EAP
We wish you all the joys of the season and the best for the New Year! And to help ensure that your holidays stay happy, we have included a 2018 Holiday Survival Toolkit, with links to tools on navigating stress, budgets, family dynamics, holiday health and more.
While the holidays can be full of rich time with family and friends, they can also be a time of high stress or depression for some, such as those who are struggling financially, those who have suffered a recent loss or any number of other reasons. If you or a family member are experiencing any difficulties this season, large or small, your EAP can help.
Remember that your EAP is available 24-7-365 for help with any difficulties you may experience. For confidential help from experienced counselors simply call 800.252.4555.
Important Information for NYSHIP Enrollees concerning copayment increases.
The following information concerns changes to the Empire Plan copayments for Medical, Hospital, and Mental Health and Substance Abuse Services, and to the combined annual deductible and coinsurance maximum amounts for non-network services. These changes were negotiated by State employee unions that settled their collective bargaining contracts with New York State or the Unified Court System and they are being extended to Participating Agencies (PAs) and Participating Employers (PEs). These changes are effective January 1, 2019 and apply to PA and PE enrollees who are active employees, retirees, dependent survivors or COBRA enrollees with Empire Plan Benefits. See Full Notice including Charts
Contact Health Benefits
Keisha Martinez, Health Benefits Specialist
BOE/ Library Complex
124 Grand Street

Phone: 845-563-3467
Important Phone Numbers
Service
Phone
Empire
1-877-769-7447
MVP
1-888-687-6277
CDPHP
1-800-777-2273
GHI
1-877-244-4466
CSEA Dental/Vision
1-800-323-2732
Marshall & Sterling
1-914-962-1188
ext 2481 or 2489
NYSLRS
osc.state.ny.us
1-866-805-0990

1-518-474-7736

NYSTRS
www.nystrs.org
1-800-348-7298
WageWorks
(Flex/FSA /DCA)
1-800-950-0105
Aflac
Jennifer Boulle
845-337-2134
Important Documents and Files