District Budget Information
2020-2021 District Budget Information
2020-2021 Unofficial BOE Election and Budget Vote Results
Election:
Four BOE Members
Shoy Colbourne: 1516
Zachary Costa: 1660
Dawn Fucheck: 2771
Mark Levinstein: 3858
Carole Mineo: 4180
Darren Stridiron: 3056
William Walker: 3103
Latest 2020-21 Budget Information.
The superintendent recently showed his initial 20-21 budget at a BOE Workshop Meeting. You can view the powerpoint below.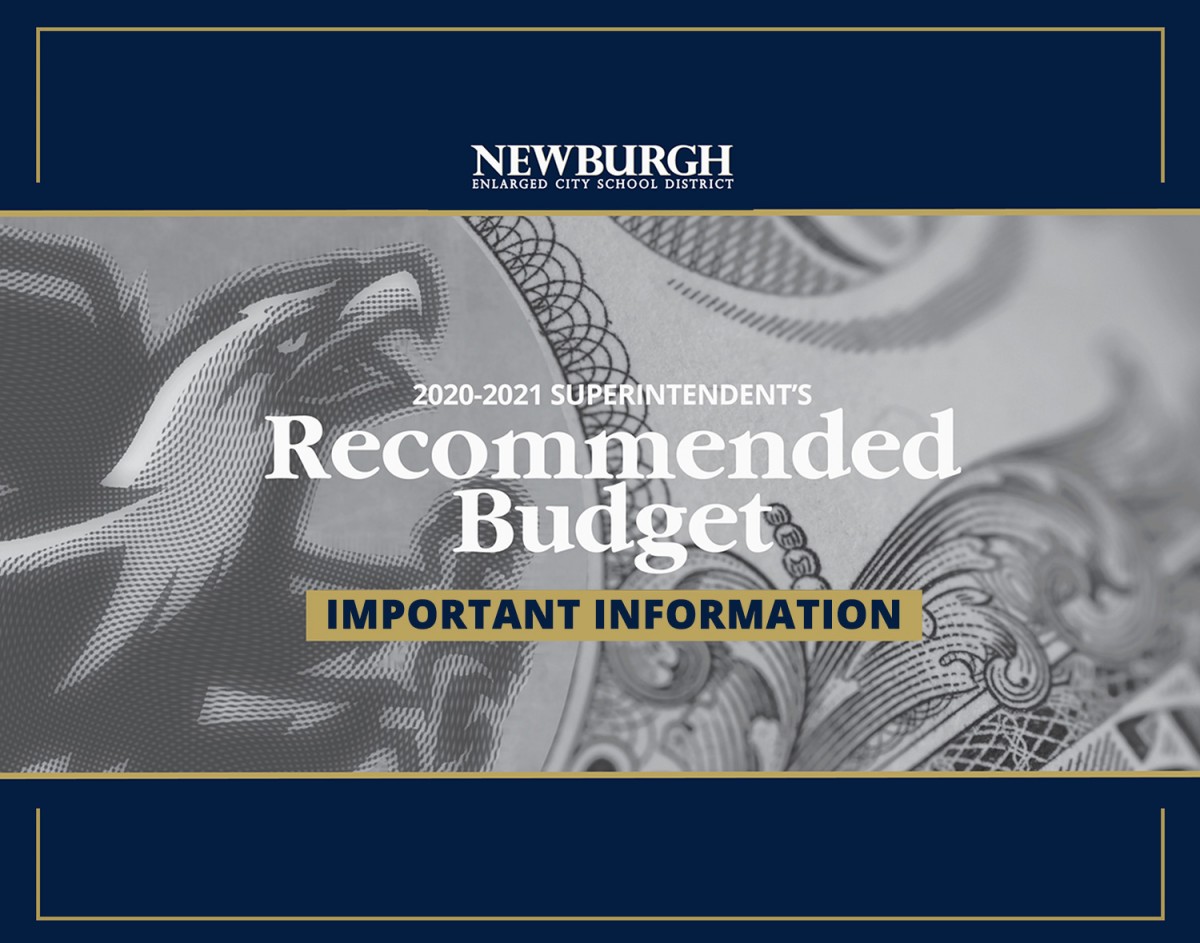 Budget Booklet
These budget documents are required to be made available to the public each year. Usually they are available in a binder in school buildings, however this year they will only be available online.
Input and Public Hearing on the Budget
The public hearing on the budget will be held on June 1, 2020. That is an opportunity for the public to see the final budget as presented by the Superintendent.
As a reminder, you can always share your questions, comments, or feedback with the Board of Education and the Central Staff by emailing Budget@necsd.net or
Communications@necsd.net.
Budget Vote and BOE Election Voting Info.
UPDATE
NYS has extended the date by which ballots must be received via mail. Due to this, ballots that are mailed and received by Tuesday, June 16th at 5pm will be counted. This executive order does NOT change the date by which ballots can be deposited in the Newburgh Free Library book bin (124 Grand St., Newburgh). If you wish to deposit your ballot in the book bin, you must do so by Tuesday, June 9th at 5pm. After Tuesday, June 9th at 5pm, any ballots deposited in the book bin will not be counted.
- Mail-in ballots received by Tuesday, June 16th at 5pm will be counted
- Ballots deposited in the Newburgh Free Library book bin (124 Grand St., Newburgh) will be counted
- All ballots will be counted on Tuesday, June 16th beginning at 5pm.
BOE Candidates
There are 4 open spots on the Board of Education. Visit the link below for more information on candidates running for election.
How do I register to vote?
The Budget Vote and School Board Election will be held remotely, by Absentee Ballot only. Qualified voters of this School District will receive absentee ballots by mail. To be a qualified voter you must be a US Citizen, at least 18 years old by June 9, 2020, a School District resident for 30 days immediately preceding the vote, and registered to vote in School District elections and having voted in any School District election/vote during the past 4 calendar years. Due to the COVID-19 Pandemic, there will be no personal voter registration held at school district offices prior to the June 9, 2020 vote. If you are not registered, you can register with the County Board of Elections by mail or remotely through the website: https://dmv.ny.gov/more-info/electronic-voter-registration-applicationt
2019-2020 District Budget Information
Budget Vote/ Election: Tuesday, May 21, 2019
2019-2020 Official BOE Election and Budget Vote Results
Prop. 3: Transportation Limit
Prop. 4: Repair/Renovations CTE-Bond
Prop. 5: Air Quality/Conditioning-Bond
Yes: 1554 (61.89%)
No: 957
Election: Three BOE Members
R. Andrew Johnston: 957
Shoy Colbourne: 498
Susan Prokosch: 1263
Shane Henderson: 1167
Carol L. Maida: 1400
Mark Levinstein: 1101
2019-2020 Latest News

Sample Ballots Now Available: English | Spanish - May 8, 2019
Candidate Bios Now Available - May 7, 2019
Online voter registration information and polling locations link added- March 19, 2019
Application for Absentee Ballot, Petition Form Notice, Calendar Notice and Polling Locations information available - March 12, 2019
---
2019-2020 Budget Documents
2018-2019 District Budget Information
Budget Vote/ Election: Tuesday, May 15, 2018
2018-2019 Budget Documents


---------------------------------------------------------------------------------------------------------------------------------------------------------------------------------------------------------------------
2017-2018 District Budget Information


2017-2018 Latest News

Unofficial Election/Budget Vote Results - May 16, 2017

School District Budget
Yes: 1410 No: 442

Newburgh Library Budget
Yes: 1456 No: 406

BOE Candidates
Mark Levinstein: 767
Carole Mineo: 1264
Darren Stridiron: 1061
William Walker: 1188
Sylvia Santiago: 760
---
Candidate Bios - May 4, 2017

The bios for the upcoming election of Board of Education members are now available to review.
Click Here to Review Bios
---
Upcoming Community Budget Forms - April 24, 2017
The Community Budget Forums are scheduled for the following dates:
Tuesday, May 9, Board of Education Complex 6:00 p.m.
Wednesday, May 10, Heritage Middle School, 6:00 p.m.
Thursday, May 11, Gardnertown School, 6:00 p.m.
---
Superintendent's Proposed Budget - April 5, 2017
Download the Superintendent's Final Proposed Budget
Powerpoint Presentation from 4/5/17 Meeting
---
2017-2018 Budget Documents


---------------------------------------------------------------------------------------------------------------------------------------------------------------------------------------------------------------------


2016-2017 District Budget Information
2016-2017 Budget Results
PROPOSITIONS
YES
NO
CANDIDATES


(4 available positions)

VOTES
1. NECSD Budget
1458
601
Domenic Tebano
1200
2. NFL Budget
1499
543
Anthony Hood
484
3. Capital Reserve Fund
1387
583
Susan Prokosch
1536
4. Transportation Limit
1392
582
Darren Stridiron
1054
Mark Levinstein
852
R. Andrew Johnston
1112
Sylvia M. Santiago
731
Lissandra Deliz
329
2016-2017 Budget Documents
Citizen's Guide to Understanding the Budget
Sample Ballot
Budget Newsletter
Polling Locations
Petition Forms Notice
Public Hearing Notice
Application for Absentee Ballot
Draft Budget (4/4/2016)
Draft at a Glance (4/4/2016)
Supt. Considerations Summary (4/4/2016)
Older Draft Budget (2/4/2016)

Budget Binder
Budget Binder Introduction
Budget Newsletter: Eng | Esp
Property Tax Report Card
Budget Detail
3 Part Budget
Revenue Budget
Glossary of Terms 1
Glossary of Terms 2
District Report Card
Fiscal Accountability Supplement
Balmville Report Card
Fostertown Report Card
GAMS Tech Report Card
Gardnertown Report Card
Heritage Report Card
Horizons Report Card
Meadow Hill Report Card
New Windsor Report Card
Newburgh Free Academy Report Card
South Report Card
Temple Hill Report Card
Vails Gate Report Card
Tax Impact Report
NFL Budget
NFL Revenue
Administrative Compensation

General Documents
Mandate Relief
Fiscal Stress Monitoring System
Mandates and Mandate Relief
Revenue Challenges Facing School Districts
Tax Levy "Cap" Law: Raises the Stakes
Understanding the STAR Program
Navigating Through Year 2 of NYS Levy Cap
The 3 Numbers Under NYS's Tax Levy "Cap"
Glossary of School Budget Terms



---