2023 Extended School Year Program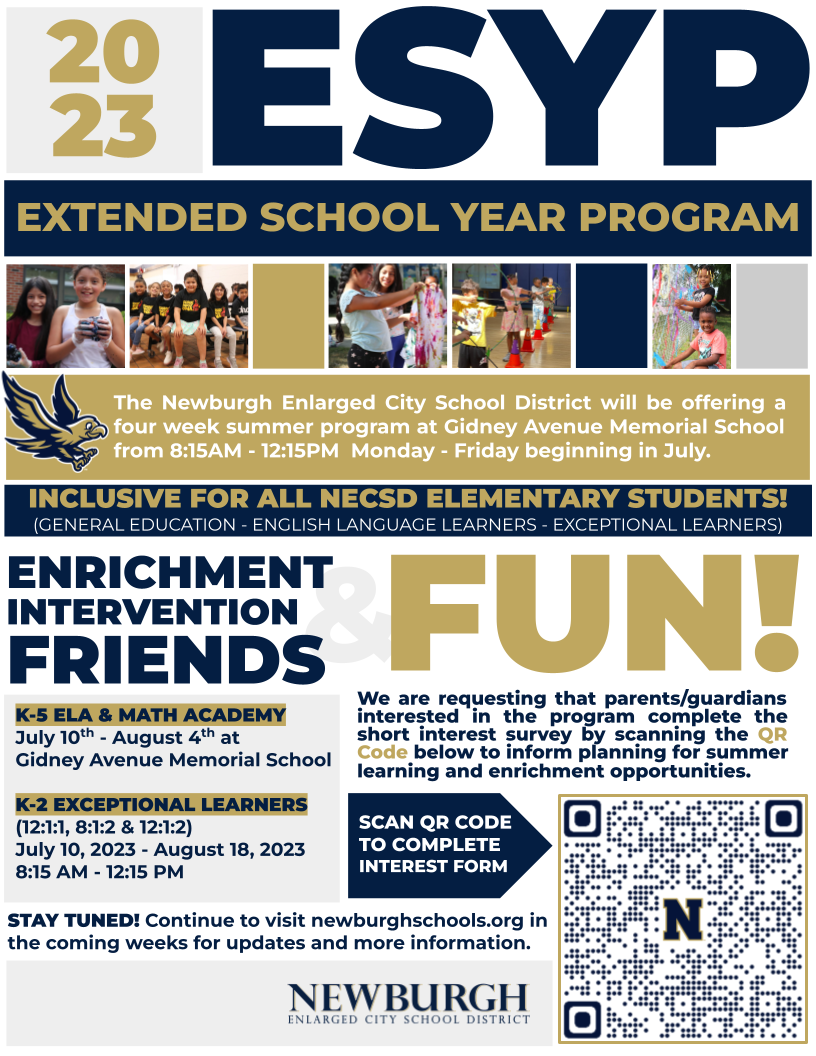 The Newburgh Enlarged City School District will be offering a four week summer program at Gidney Avenue Memorial School from 8:15AM - 12:15PM Monday - Friday beginning in July.
ENRICHMENT, INTERVENTION, FRIENDS & FUN
K-5 ELA & MATH ACADEMY
July 10th - August 4th at Gidney Avenue Memorial School
K-2 EXCEPTIONAL LEARNERS
(12:1:1, 8:1:2 & 12:1:2)
July 10, 2023 - August 18, 2023
8:15 AM - 12:15 PM
We are requesting that parents/guardians interested in the program complete the short interest survey by clicking the link below to inform planning for summer learning and enrichment opportunities.
Complete Interest Survey for ESYP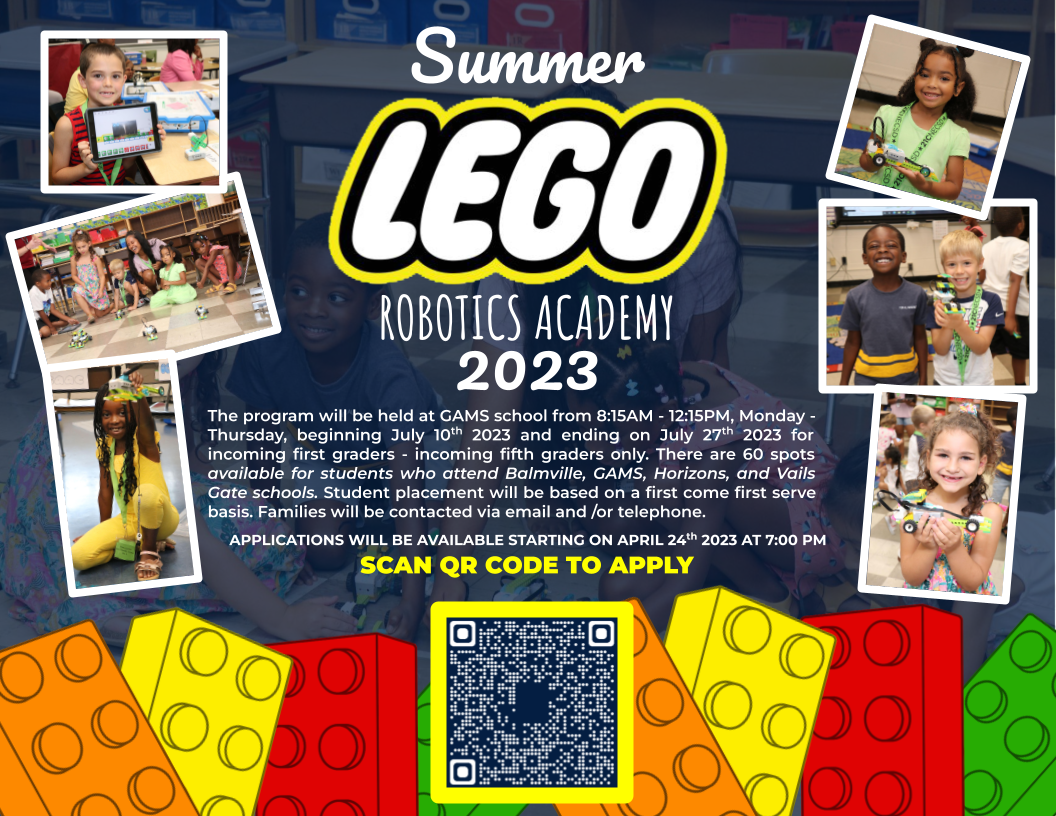 Summer Lego Robotics Academy is Returning
The Summer Lego Robotics Academy will be held at GAMS school from 8:15AM - 12:15PM Monday - Thursday beginning July 10th 2023 and ending on July 27th 2023 for incoming first graders - incoming fifth graders only. There are 60 spots available for students who attend Balmville, GAMS, Horizons, and Vails Gate schools. Student placement will be based on a first come first serve basis. Families will be contacted via email and /or telephone.
...Program is Currently Full...

Empire Summer Program
The Empire ESYP will provide scholars with a wide array of enriched and entertaining program choices during the Summer of 2023!

This secondary program is available to rising scholars in grades 9 - 12 attending the following schools: Meadow Hill Global Explorations Magnet School, Temple Hill Academy, Heritage Middle School, South Middle School, Newburgh Free Academy Main, Newburgh Free Academy North, and Newburgh Free Academy West. The STEM Program at Black Rock Forest is also open to scholars in grades 3 - 9.

Grade 6 - 8 middle school programs with be offered exclusively at South Middle School and all grades 9 - 12 high school programs will be at NFA North with the exception of the Black rock STEM Program at Black Rock Forest (grades 3 - 9) and TEAM Survival Science with Clarkson University at Denning's Point, Beacon, NY (grades 6 - 8).

Overall, the ESYP program will run for five days a week for four weeks. However, some Empire programs may be offered for less than this time. Some programs may be offered for a week, two weeks, etc.. Programs are scheduled from 9:00 AM to 1:30 PM, with the exception of Black Rock Forest which is 8:30 AM to 1:30 PM and Denning's Point (8:30 AM -1:30 PM). Transportation and school meals will be available. School provided transportation is highly recommended for programs at Black Rock Forest and Denning's Point.

Please note: if a scholar's grade promotion is in doubt, for example, attendance in the academic recovery programs at the middle school or high school will take priority over attending the Empire enrichment programs.

The following are the tentative enrichment programs to be offered this summer, pending available staff and scholars' enrollment:
____________________________________________________________________________________________
EMPIRE - Offsite Offerings:
★ Black Rock STEM Program at Black Rock Forest
(Grades 3 - 9) (July 17 - August 11, 8:30AM - 1:30PM)
*off-site*
★ TEAM Survival Science with Clarkson University at Denning's Point, Beacon, NY
(Grades 6 - 8) (July 18 - August 4, 9AM - 1PM)
*off-site*
____________________________________________________________________________________________
EMPIRE - SMS Program Site Offerings: Grades 6-8, Monday - Friday: July 17-August 11, 9AM-1:30PM
★ Empire Drumline
★ Empire Guitar Club
(July 17-21 ONLY ONE WEEK PROGRAM*)
★ Empire Piano
★ Empire Steel Pan Drums
★ Empire Dog-Reading Program
★ Empire STEAM Focus on the Arts
★ Empire Crocheting & Crafts
★ Empire Intramural Sports
★ Empire STEM through Nature/Gardening and Outdoors
★ Empire Culinary
★ Empire ESports
★ Empire Lego-Land Coding
★ Empire Film & Fiction
★ Empire Intro to Cosmetology (This program will be located @ NFA Main)
____________________________________________________________________________________________
EMPIRE - NFA North Program Site Offerings: Grades 9-12, Monday - Friday: July 17-August 11, 9AM-1:30PM

★ Empire Visual Arts
★ Empire Fitness, Health, and Wellness
★ Empire Culinary
★ Empire ESports
★ Empire First Aid/CPR/AED
★ Empire Swimming (This program will be located @ NFA Main)
____________________________________________________________________________________________
Reminder: Empire enrichment programs are subject to change due to staff availability and scholars' enrollment.

Thank you so much for your interest and for taking the time to apply to the Empire Enrichment Program.
Gerald Ortiz | Empire State After-School Program Grant Facilitator | gortiz@necsd.net